Category: Ephemera, University of Oregon
3 results
Results
About - Lesbian Intentional Communities: Ruth Mountaingrove Photographs The Ruth Mountaingrove Papers include textual and graphical materials. The collection is currently arranged into four series, beginning with correspondence, diaries, ephemera and finally, photographs. The photograph series (Series IV) is currently the only series within this collection that is processed and available for research use. Ruth's photographs depict her life on lesbian land, and as a member of the national feminist/lesbian network.
♥ 0
355 reads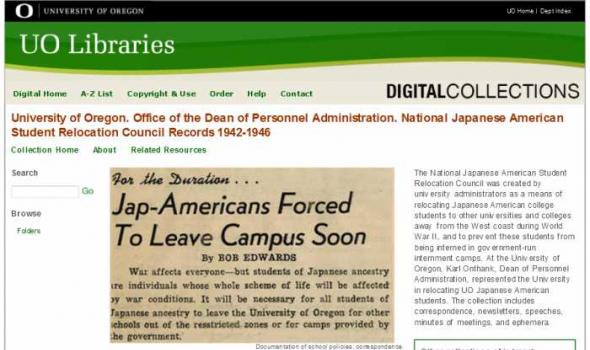 About - University of Oregon. Office of the Dean of Personnel Administration. National Japanese American Student Relocation Council Records 1942-1946 The National Japanese American Student Relocation Council was created by university administrators as a means of relocating Japanese American college students to other universities and colleges away from the West coast during World War II, and to prevent these students from being interned in government-run internment camps. At the University of Oregon, Karl Onthank, Dean of Personnel Administration, represented the University in relocating UO Japanese American students. The collection includes correspondence, newsletters, speeches, minutes of meetings, and ephemera.
♥ 1
307 reads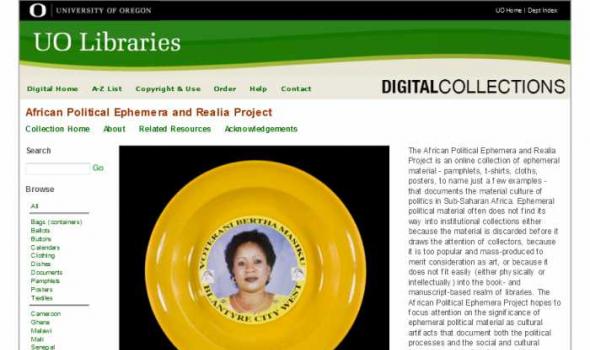 African Political Ephemera and Realia Project Search Browse The African Political Ephemera and Realia Project is an online collection of ephemeral material - pamphlets, t-shirts, cloths, posters, to name just a few examples - that documents the material culture of politics in Sub-Saharan Africa. Ephemeral political material often does not find its way into institutional collections either because the material is discarded before it draws the attention of collectors, because it is too popular and mass-produced to merit consideration as art, or because it does not fit easily (either physically or intellectually) into the book- and manuscript-based realm of libraries.
♥ 0
357 reads