Category: Arts & Humanities, History
3 results
Results
This collection is part of the Glasgow Digital Library and is maintained by the Centre for Digital Library Research at the University of Strathclyde . The resource was developed as part of the Resources for Learning project funded by the New Opportunities Fund digitisation programme. Further resources and 70,000 objects can be found on the RLS site .
♥ 0
744 reads
About the Collection In preparation for its centennial in 2011, the OSU Extension Service interviewed several of its emeritus faculty in 2007 and 2008. These interviews help to tell the story of extension in Oregon during the 50 years after World War II. They cover areas including agriculture, 4-H, home economics, energy, community development, Sea Grant, communications, and administration and support. The original interviews and transcripts have been placed in the University Archives. Two additional interviews from the Archives' collection, conducted in the 1980s and early 1990s, are also included. Interviews are available via the OSU Libraries' streaming server. Transcripts and photographs are also available online. Interviews
♥ 0
360 reads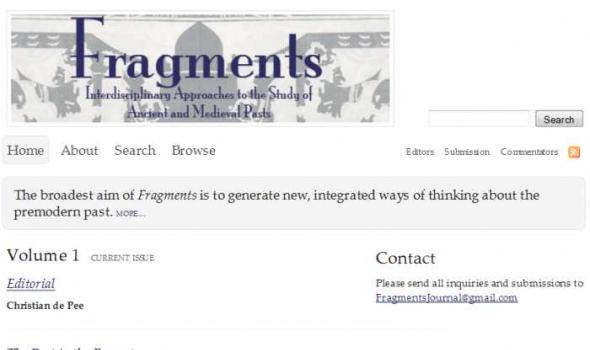 Contact Please send all inquiries and submissions to FragmentsJournal@gmail.com The editorial board is pleased to announce the establishment of Fragments , a new, open-access and peer-reviewed journal, which will be published by MPublishing, a division of the University of Michigan Library. The journal's first articles were published in July 2011. Fragments will provide a forum for dialogue and exchange between scholars in all fields of the humanities and social sciences who study the premodern world. The journal encourages scholars to pursue subjects of broad interest to colleagues working in other places and times, and to pursue comparative and connective approaches in investigating the past.
♥ 0
293 reads