Category: Chemical & Bio-technology , Chemistry
2 results
Results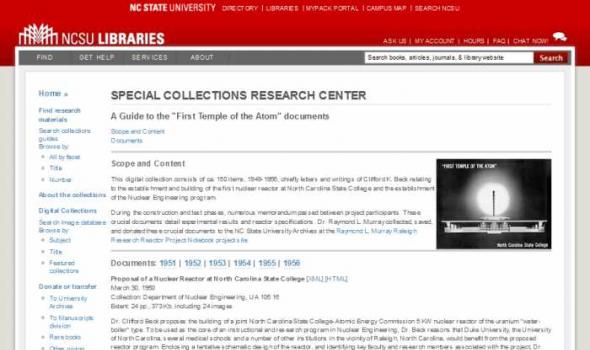 This digital collection consists of ca. 150 items, 1949-1956, chiefly letters and writings of Clifford K. Beck relating to the establishment and building of the first nuclear reactor at North Carolina State College and the establishment of the Nuclear Engineering program.
During the construction and test phases, numerous memorandum passed between project participants. These crucial documents detail experimental results and reactor specifications. Dr. Raymond L. Murray collected, saved, and donated these crucial documents to the NC State University Archives at the Raymond L. Murray Raleigh Research Reactor Project Notebook project site.
♥ 1
976 reads
Linus Pauling and The Nature of the Chemical Bond: A Documentary History is comprised of three large sub-sections, each of which tells the story of the elucidation of chemical bond theory in a different way. Navigation between sub-sections may be achieved either through use of the links provided on the site homepage or through use of the links located in the header of each page within the site. Narrative - The first section - a forty-nine "chapter" Narrative - recounts the early years of chemical bond investigation primarily focusing on chemist Linus Pauling's (1901-1994) research, which he later proclaimed as being his most important contribution to science.
♥ 0
910 reads