Category: Social Sciences, Indonesia
3 results
Results
Historical Context The Visions collection includes the written and photographed experiences of Europeans and Americans who traveled to Southeast Asia during the period of imperialism. The peoples of Southeast Asia experienced waves of colonization beginning in 1511 when the Portuguese took Melaka, a strategic and thriving port city on the Malay Peninsula. The Spanish established a colony in the Philippines which they ruled from the 1560s until 1899 when the United States ousted the Spanish and governed the colony until Philippine independence in 1946. The Dutch gradually conquered the areas known today as Indonesia beginning in 1596 and ending after WWII.
♥ 1
374 reads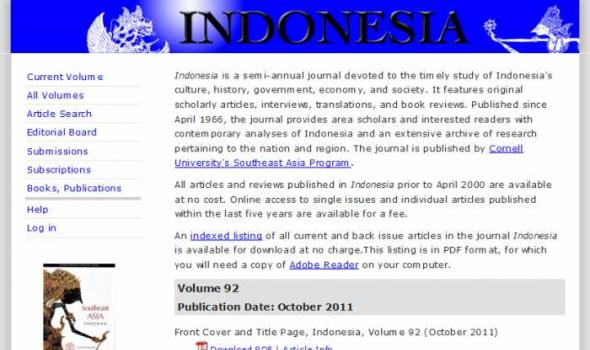 Indonesia is a semi-annual journal devoted to the timely study of Indonesia's culture, history, government, economy, and society. It features original scholarly articles, interviews, translations, and book reviews. Published since April 1966, the journal provides area scholars and interested readers with contemporary analyses of Indonesia and an extensive archive of research pertaining to the nation and region. The journal is published by Cornell University's Southeast Asia Program . All articles and reviews published in Indonesia prior to April 2000 are available at no cost. Online access to single issues and individual articles published within the last five years are available for a fee.
♥ 0
495 reads
Database selection The goal of this project is to catalog and digitize each of the 1,780 slides within the Claire Holt collection. Microsoft Excel was selected as the application most suited to cataloguing requirements. Image browser After researching options available for creating and maintaining a widely-accessible virtual collection, Luna Imaging's In sight® browsing software was selected as the most appropriate way to present the Claire Holt images over the Internet.
♥ 0
755 reads