Category: Wisconsin
Results 22 - 24 of 24
Results
Scope and Content Cities Around the World presents over 6,100 photographic images from the slide collections of the American Geographic Society Library. The images selected for this project focus on architecture, city life, people, transportation and other aspects of urban development, such as neighborhoods, commercial streets, and business districts. The pictures were taken by two photographers, Harrison Forman and Harold Mayer between 1942 and 1994. The digital collection provides access to photographs of over 450 cities worldwide. In addition to present-day metropolitan areas, this collection also features ancient cities and deserted settlements, including Carthage, Great Zimbabwe, Machupicchu, and Persepolis.
♥ 0
372 reads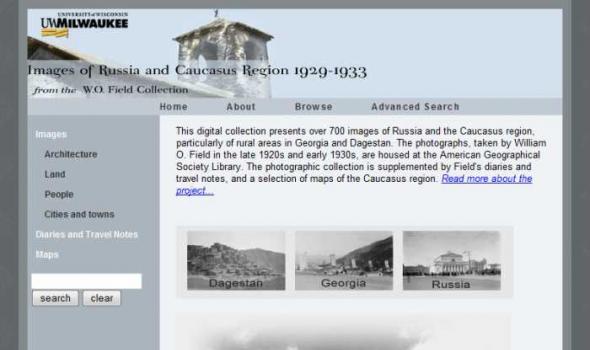 Scope and Content Images of Russia and Caucasus Region 1929-1933 presents over 700 images of Russia and the central Caucasus including the Republic of Georgia and Dagestan from the William O. Field Collection housed at the American Geographical Society Library. The photographic collection is supplemented by Field's diaries and travel notes, and a selection of maps of the Caucasus region. William O. Field (1904 - 1994), geographer, pioneer glaciologist, and a member of the American Geographical Society visited the Soviet Union three times between 1929 and 1933. During his first trip in 1929, Field traveled to Svanetia, a remote region in Georgia, located in the southern part of the Central Caucasus.
♥ 0
312 reads
American Journeys contains more than 18,000 pages of eyewitness accounts of North American exploration, from the sagas of Vikings in Canada in AD1000 to the diaries of mountain men in the Rockies 800 years later. Read the words of explorers, Indians, missionaries, traders and settlers as they lived through the founding moments of American history. View, search, print, or download more than 150 rare books, original manuscripts, and classic travel narratives from the library and archives of the Wisconsin Historical Society. To get started, simply select an activity on the toolbar above. Funded by the U.S. Institute of Museum & Library Services and by private donors, American Journeys is a collaborative project of the Wisconsin Historical Society and National History Day.
♥ 0
415 reads