Category: News & Current Events, New York
3 results
Results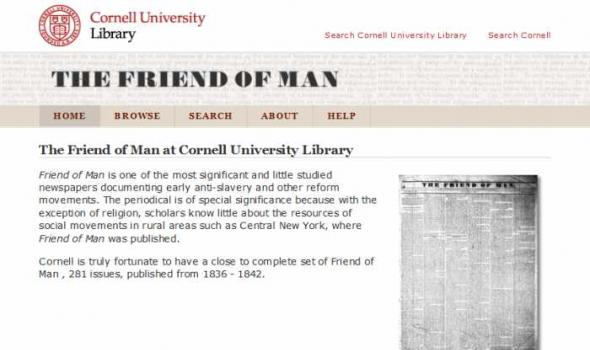 About While most research on the very early period of the reform era focuses on New England or New York City, Friend of Man illustrates that reform was thriving in Central New York as well. In this periodical, one meets a small, but vocal group of people from both races and all walks of life, intent on changing America. Scholars studying social reform in New York State will be interested in Friend of Man 's revelations about the regional interconnectedness of reform, especially in areas such as Utica, Rochester, Buffalo, Albany, and New York City.
♥ 0
924 reads
About Introduction The Cornell University Library and the Cornell Daily Sun are collaborating on an ambitious new digitization project to provide online access to the Sun's historical files. All of the original newspapers will be scanned and made available on a web site maintained by the Cornell University Library. For more than 120 years, the Sun has provided news, information, and entertainment to the entire Cornell community. Accounts of campus events and activities, sports reporting, and editorial commentary all contribute to make the Sun one of the most important sources of information on the history of the university.
♥ 2
1,855 read
Yul phyogs so soʾi gsar ʾgyur me loṅ The Tibet Mirror (Tib. Yul phyogs so so'i gsar 'gyur me long) was published from 1925 to 1963 in Kalimpong, and chronicles the most dramatic social and political transformation in Tibet during a time when vernacular writing was relatively scarce and a Tibetan media practically non-existent. The paper also relayed information about World War II, the independence of India, and other global news to Tibetan readers in Lhasa, Gyantse, Kham, etc., and to traders and aristocrats who frequently traveled from Lhasa via the Chumbi Valley to Kalimpong, Darjeeling and Calcutta.
♥ 0
682 reads