Category: Performance Arts, Columbia University
3 results
Results
The NEH-funded Joseph Urban Stage Designs Stabilization and Access Project of 2002-2004 focused on materials relating to Urban's New York theater career from 1914-1933, specifically the documentation of his productions for the Ziegfeld Follies and other theater producers, and his productions for the Metropolitan Opera. The archives of these productions contained many thousands of documents, photographs, sketches, technical drawings, and watercolors, as well as the actual stage models. Some 61 of the models remained fully assembled when acquired by Columbia, while 281 models had been collapsed by the Urban studio into one or more flattened bundles each. Press Release, 5/10/02 Selection for Digitization.
♥ 0
368 reads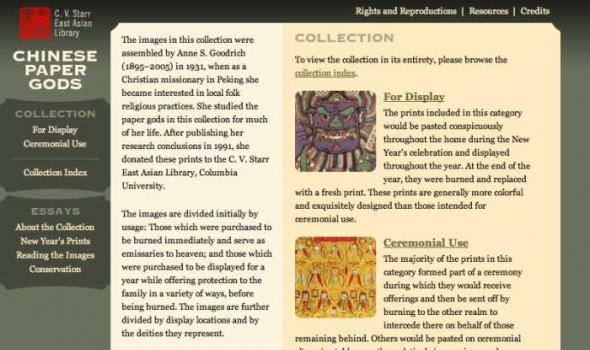 Chinese Paper Gods Collection Essays The images in this collection were assembled by Anne S. Goodrich (1895–2005) in 1931, when as a Christian missionary in Peking she became interested in local folk religious practices. She studied the paper gods in this collection for much of her life. After publishing her research conclusions in 1991, she donated these prints to the C. V. Starr East Asian Library, Columbia University. The images are divided initially by usage: Those which were purchased to be burned immediately and serve as emissaries to heaven; and those which were purchased to be displayed for a year while offering protection to the family in a variety of ways, before being burned. The images are further divided by display locations and by the deities they represent.
♥ 4
390 reads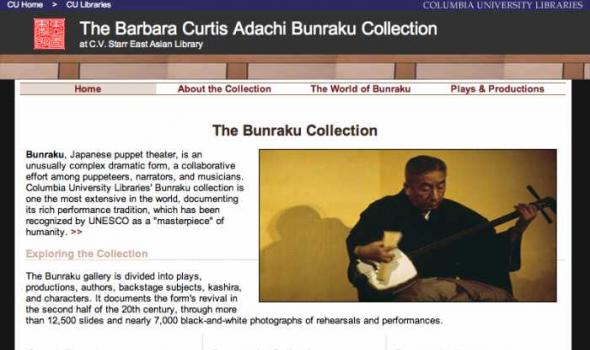 Bunraku, Japanese puppet theater, is an unusually complex dramatic form, a collaborative effort among puppeteers, narrators, and musicians. Columbia University Libraries' Bunraku collection is one the most extensive in the world, documenting its rich performance tradition, which has been recognized by UNESCO as a "masterpiece" of humanity.
The Bunraku gallery is divided into plays, productions, authors, backstage subjects, kashira, and characters. It documents the form's revival in the second half of the 20th century, through more than 12,500 slides and nearly 7,000 black-and-white photographs of rehearsals and performances.
♥ 1
358 reads