Category: Ephemera, University of Louisville
3 results
Results
DIGITAL COLLECTIONS About the Collection The Newton Owen Postcard Collection represents nearly a century in the life and travels of an extended Kentucky family. The earliest cards date to the late 19th century, and while the bulk of the collection dates to the period 1900-1940, there are postcards dating to the 1980s as well. It consists of 781 cards, including travel postcards and greeting cards of many different kinds. The Newton Owen Postcard Collection consists of postcards collected by the Bayne, Foell, and Owen families. The Bayne family, consisting of Samuel and Fannie Bayne and their children, Josephine (born 1899), Samuel Junior (born 1901), and Sarah (born 1903).
♥ 0
339 reads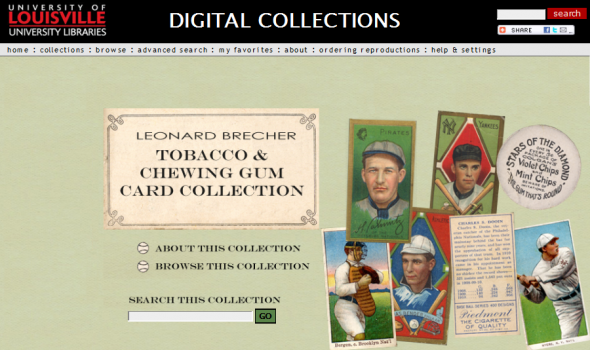 DIGITAL COLLECTIONS About the Collection The Leonard Brecher Tobacco and Chewing Gum Card Collection contains 154 digital images of baseball cards from the early 20th century. Tobacco, candy, and chewing gum companies printed trade cards or advertising cards to include with their products. Cards in this digital collection come from the American Tobacco Company, American Caramel Company, Colgan Gum Company (of Louisville, Kentucky), John H. Dockman & Sons, and the Standard Caramel Company, and primarily date between 1909 and 1911. Received by the University of Louisville Art Library in 1969 as a donation from Leonard Brecher, the collection contains 356 baseball cards and 86 cards with bird images. Of these, 154 of the baseball cards are included in the digital collection.
♥ 0
530 reads
DIGITAL COLLECTIONS About the Collection Known as The Traipsin' Woman, Jean Thomas (1881-1982) traveled the mountains of eastern Kentucky taking snapshot photographs of the mountain way of life, writing, and promoting mountain folkways. She was particularly interested in the music, crafts, and language patterns of the area. Included in the digital collection are 1,077 photographs of and by Jean Thomas during her travels throughout the eastern Kentucky mountains and the staging of the annual American Folk Song Festival. The images document musical instruments, quilts, baskets, and other crafts, and scenes with community and family groups, and date from Jean's childhood (ca.
♥ 0
818 reads