Category: Classics
3 results
Results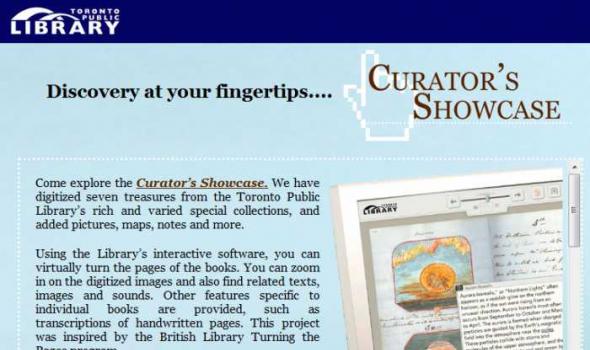 Discovery at your fingertips.... Come explore the Curator's Showcase. We have digitized seven treasures from the Toronto Public Library's rich and varied special collections, and added pictures, maps, notes and more. Using the Library's interactive software, you can virtually turn the pages of the books. You can zoom in on the digitized images and also find related texts, images and sounds. Other features specific to individual books are provided, such as transcriptions of handwritten pages. This project was inspired by the British Library Turning the Pages program. To experience a touch sensitive version of the Showcase, visit the Special Collections Digital Kiosk at the Toronto Reference Library .
♥ 0
1,359 read
About Us Parliament Week (31 October - 6 November 2011) The Original Wind in the Willows This online display, launched by the University of Oxford?s Bodleian Library to celebrate World Book Day 2007, reveals the origins of Kenneth Grahame?s masterpiece of children?s literature, The Wind in the Willows . It is an expanded version of an exhibition mounted on 1 March 2007 for one day only in the Bodleian Library?s famous Divinity School, and reproduces images from the original letters and manuscripts in which Grahame brought his famous characters to life one hundred years ago.
♥ 0
910 reads
The Digital Library SunSITE is building a collection of digital texts that can be read online, printed, or downloaded for further study.
♥ 0
936 reads