Category: Arts & Humanities, Russia
3 results
Results
About This Collection The Yiddish language sheet music in this digital collection is part of the large Sheet Music Collection at the John Hay Library. The digital collection is composed of public domain (pre-1923) titles; when the project is completed it is expected that it will be comprised of approximately 700 titles. Most of the Yiddish sheet music in the collection came from the collection of Menache Vaxer, a Yiddish writer and Hebraist of Russia, and was acquired by the Library in 1968, which included over 850 pieces of piano-vocal or instrumental music, dating from the 1890s through the 1940s. This core collection has been added to by purchase and gift since that time, and the entire Yiddish sheet music collection now totals approximately 2000 items.
♥ 0
1,043 read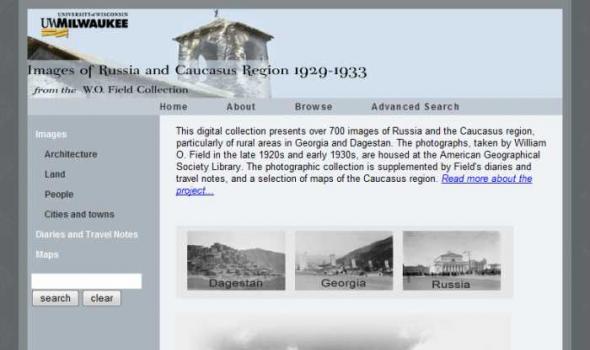 Scope and Content Images of Russia and Caucasus Region 1929-1933 presents over 700 images of Russia and the central Caucasus including the Republic of Georgia and Dagestan from the William O. Field Collection housed at the American Geographical Society Library. The photographic collection is supplemented by Field's diaries and travel notes, and a selection of maps of the Caucasus region. William O. Field (1904 - 1994), geographer, pioneer glaciologist, and a member of the American Geographical Society visited the Soviet Union three times between 1929 and 1933. During his first trip in 1929, Field traveled to Svanetia, a remote region in Georgia, located in the southern part of the Central Caucasus.
♥ 0
990 reads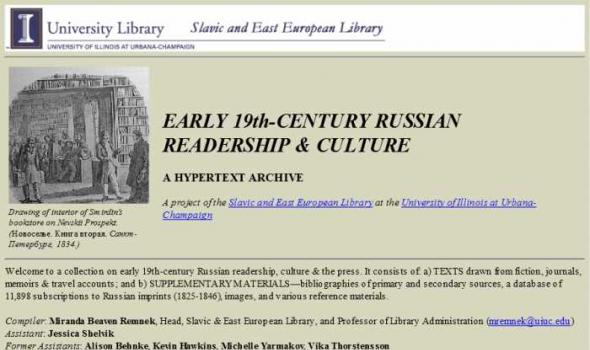 Welcome to a collection on early 19th-century Russian readership, culture & the press. It consists of: a) TEXTS drawn from fiction, journals, memoirs & travel accounts; and b) SUPPLEMENTARY MATERIALS—bibliographies of primary and secondary sources, a database of 11,898 subscriptions to Russian imprints (1825-1846), images, and various reference materials.
♥ 0
1,051 read