Category: Alternative Medicine  
3 results
Results
Patent medicine is the term given to various medical compounds sold under a variety of names and labels, though they were for the most part actually trademarked medicines, not patented. In ancient times, such medicine was called nostrum remedium, "our remedy" in Latin, hence the name "nostrum"; it is a medicine whose efficacy is questionable and whose ingredients are usually kept secret.
The trade cards are small, colorfully illustrated advertising cards touting a particular medicine and its many cures. The illustrations often have little to do with any of the ailments purported to be cured. They were pure advertising and very collectible. The era of patent medicine began to unravel in the U.S. with the passage of the first Pure Food and Drug Act in 1906.
♥ 4
1,602 read
History of Medicine Harry Potter's World: Renaissance Science, Magic, and Medicine I n 1997, British author J. K. Rowling introduced the world to Harry Potter and a literary phenomenon was born. Millions of readers have followed Harry to the Hogwarts School of Witchcraft and Wizardry where he discovers his heritage, encounters new plants and animals, and perfects his magical abilities. Although a fantasy story, the magic in the Harry Potter books is partially based on Renaissance traditions that played an important role in the development of Western science, including alchemy, astrology, and natural philosophy.
♥ 4
1,372 read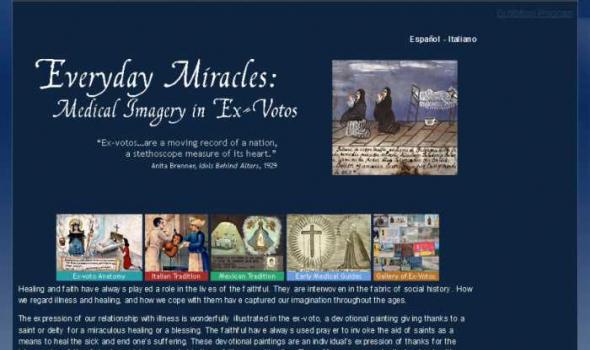 History of Medicine Español - Italiano Healing and faith have always played a role in the lives of the faithful. They are interwoven in the fabric of social history. How we regard illness and healing, and how we cope with them have captured our imagination throughout the ages. The expression of our relationship with illness is wonderfully illustrated in the ex-voto, a devotional painting giving thanks to a saint or deity for a miraculous healing or a blessing. The faithful have always used prayer to invoke the aid of saints as a means to heal the sick and end one's suffering. These devotional paintings are an individual's expression of thanks for the intercession of the divine in a crisis, a snapshot in time of illness and healing.
♥ 0
1,010 read