Category: University of Illinois
3 results
Results
Introduction DrMetcalf provides online access to information on cicadas , leafhoppers , planthoppers , spittlebugs , and treehoppers , including a searchable bibliographic database for retrieving literature on these groups, which together comprise the group Auchenorrhyncha . The database includes nearly 12,000 early publications (1741-1955). Few electronic databases cover the early literature for any insect group. Because the focal groups are common and widespread, users may find the database helpful for retrieving many older works on insects in general. DrMetcalf also includes an overview of the group Auchenorrhyncha and each of its major subgroups.
♥ 0
1,491 read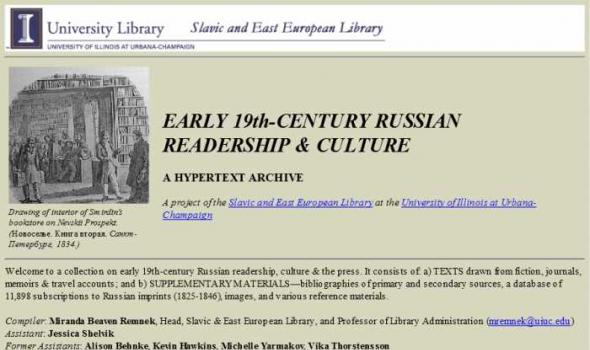 Welcome to a collection on early 19th-century Russian readership, culture & the press. It consists of: a) TEXTS drawn from fiction, journals, memoirs & travel accounts; and b) SUPPLEMENTARY MATERIALS—bibliographies of primary and secondary sources, a database of 11,898 subscriptions to Russian imprints (1825-1846), images, and various reference materials.
♥ 0
1,082 read
From Alchemy to Chemistry: Five Hundred Years of Rare and Interesting Books This website grew out of an exhibit held at the University of Illinois at Urbana-Champaign Rare Book Room in April 2000. The Eastern Illinois Section of the American Chemical Society provided support for the construction of this website. The exhibit, "From Alchemy to Chemistry: 500 Years of Rare and Interesting Books," was co-curated by Tina Chrzastowski (Chemistry Librarian), Vera Mainz (Director, VOICE NMR Lab, School of Chemical Sciences), and Gregory Girolami (Professor of Chemistry).
♥ 0
1,048 read