Category: News & Current Events, United Kingdom
2 results
Results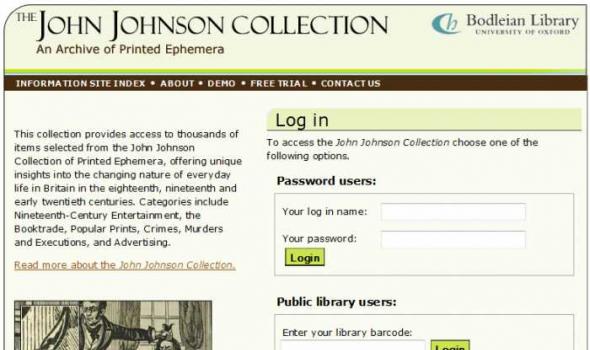 The John Johnson Collection About Introduction The John Johnson Collection is the product of a unique partnership between the Bodleian Library and ProQuest to conserve, catalogue and digitise more than 65,000 items drawn from the Bodleian's John Johnson Collection of Printed Ephemera. The project, which has been funded by the Joint Information Systems Committee (JISC) through its Digitisation Programme , broadens access to a wide array of rare or unique archival materials documenting various aspects of everyday life in Britain in the eighteenth, nineteenth and early twentieth centuries.
♥ 0
793 reads
In the centuries before there were newspapers and 24-hour news channels, the general public had to rely on street literature to find out what was going on. The most popular form of this for nearly 300 years was 'broadsides' - the tabloids of their day. Sometimes pinned up on walls in houses and ale-houses, these single sheets carried public notices, news, speeches and songs that could be read (or sung) aloud.
The National Library of Scotland's online collection of nearly 1,800 broadsides lets you see for yourself what 'the word on the street' was in Scotland between 1650 and 1910. Crime, politics, romance, emigration, humour, tragedy, royalty and superstitions - all these and more are here.
♥ 0
736 reads