Category: Harrison Forman
3 results
Results
About the Collection This digital collection presents over 90 photographs taken by Harrison Forman at the outbreak of World War II in Poland. The photographic collection is supplemented by a selection of newspaper clippings and an article "Filming the Blitzkrieg," published by Forman in Travel magazine in December 1939. The photographs, documenting the Nazi invasion of Poland in September of 1939, were recently discovered in the American Geographical Society Library at the UWM Libraries. The images are part of the extensive Harrison Forman Collection that was donated to the American Geographical Society Library in 1987. Harrison Forman (1904-1978), a Wisconsin native, was an adventurous journalist, photographer, and explorer.
♥ 0
2,111 reads
About the Collection Scope and Content The online collection Afghanistan: Images from the Harrison Forman Collection documents the life and culture of Afghanistan in the late 1960s, several years before the civil unrest of the 1970s and 80s, the Soviet invasion, and the Taliban rule. The photographs, taken by Harrison Forman in 1969, portray the daily life of Afghanis, capture the beauty of the land, and document historic sites, including the great Buddhas of Bamiyan destroyed by the Taliban in 2001. The online collection consists of 195 images selected from a set of 733 slides of Afghanistan in the Harrison Forman Photographic Collection housed in the University of Wisconsin-Milwaukee Libraries' American Geographical Society (AGS) Library.
♥ 2
1,258 read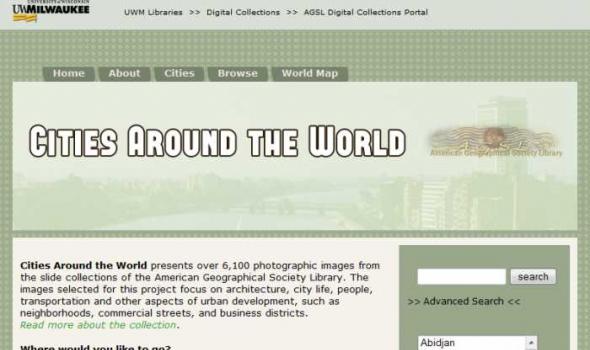 Scope and Content Cities Around the World presents over 6,100 photographic images from the slide collections of the American Geographic Society Library. The images selected for this project focus on architecture, city life, people, transportation and other aspects of urban development, such as neighborhoods, commercial streets, and business districts. The pictures were taken by two photographers, Harrison Forman and Harold Mayer between 1942 and 1994. The digital collection provides access to photographs of over 450 cities worldwide. In addition to present-day metropolitan areas, this collection also features ancient cities and deserted settlements, including Carthage, Great Zimbabwe, Machupicchu, and Persepolis.
♥ 2
1,240 read