Nazi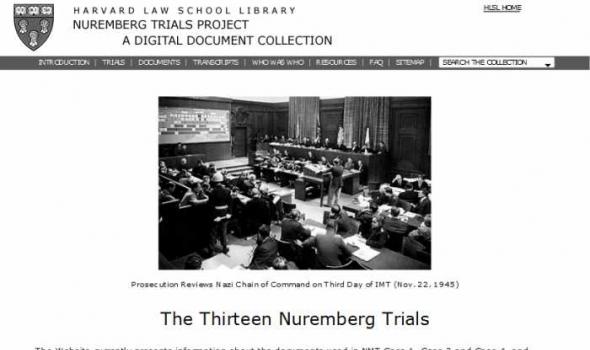 The Harvard Law School Library has approximately one million pages of documents relating to the trial of military and political leaders of Nazi Germany before the International Military Tribunal (IMT) and to the twelve trials of other accused war criminals before the United States Nuremberg Military Tribunals (NMT).
The documents, which include trial transcripts, briefs, document books, evidence files, and other papers, have been studied by lawyers, scholars, and other researchers in the areas of history, ethics, genocide, and war crimes, and are of particular interest to officials and students of current international tribunals involving war crimes and crimes against humanity.
♥ 0
1,107 read
About the Collection This digital collection presents over 90 photographs taken by Harrison Forman at the outbreak of World War II in Poland. The photographic collection is supplemented by a selection of newspaper clippings and an article "Filming the Blitzkrieg," published by Forman in Travel magazine in December 1939. The photographs, documenting the Nazi invasion of Poland in September of 1939, were recently discovered in the American Geographical Society Library at the UWM Libraries. The images are part of the extensive Harrison Forman Collection that was donated to the American Geographical Society Library in 1987. Harrison Forman (1904-1978), a Wisconsin native, was an adventurous journalist, photographer, and explorer.
♥ 0
1,818 read