Category: Dataset, Ecology
3 results
Results
Welcome to the Digital Library for Earth System Education A free service Thank you for your interest in DLESE. This overview is intended to provide you with very general information about DLESE and the library's organization. As always, we welcome your comments and suggestions. Please direct them to support@dlese.org . Browse the Library resources and collections What is DLESE? DLESE is the Digital Library for Earth System Education, a free resource that supports teaching and learning about the Earth system. DLESE's development was funded by the National Science Foundation and continues to be built by a distributed community of educators, students, and scientists to support Earth system education at all levels.
♥ 6
6,147 reads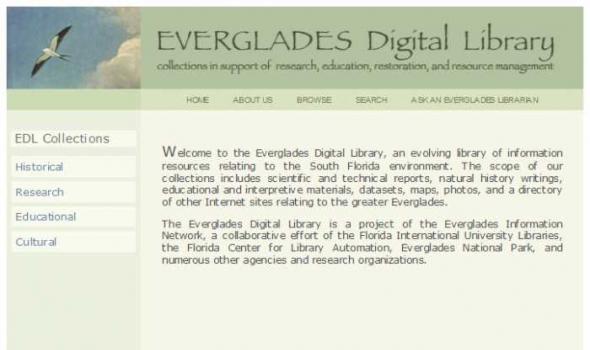 About the Everglades Digital Library The Everglades Digital Library (EDL) is a service of the Digital Collections Center at Florida International University Libraries in Miami, Florida. The EDL was established in 1996 to support research, education, decision making, and information resource management within the greater Everglades community. Since that time, the project has grown to serve patrons from around the world with Web-accessible digital collections, the online reference service 'Ask An Everglades Librarian', and other online information services.
♥ 1
1,309 read
CUGIR: Cornell University Geospatial Information Repository About the Cornell University Geospatial Information Repository (CUGIR) CUGIR is an active online data and metadata repository and a participating node in the National Spatial Data Infrastructure program. CUGIR provides open and free access to geospatial data and metadata for New York State, with special emphasis on natural features relevant to agriculture, ecology, natural resources, and human-environment interactions. Subjects such as landforms and topography, soils, hydrology, environmental hazards, agricultural activities, wildlife and natural resource management are appropriate for inclusion in the CUGIR catalog.
♥ 0
1,172 read