Internet & Multimedia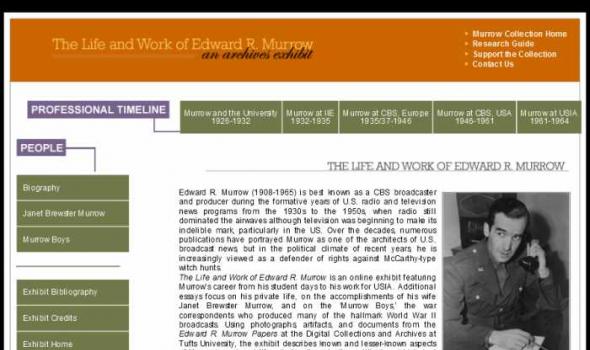 Edward R. Murrow (1908-1965) is best known as a CBS broadcaster and producer during the formative years of U.S. radio and television news programs from the 1930s to the 1950s, when radio still dominated the airwaves although television was beginning to make its indelible mark, particularly in the US. Over the decades, numerous publications have portrayed Murrow as one of the architects of U.S. broadcast news, but in the political climate of recent years, he is increasingly viewed as a defender of rights against McCarthy-type witch hunts. The Life and Work of Edward R. Murrow is an online exhibit featuring Murrow's career from his student days to his work for USIA.
♥ 0
998 reads
About the Project Named after the pioneering critic of the commercialization of mass media, the late Professor Rose Goldsen of Cornell University, the Archive was founded in 2002 by Timothy Murray to house international art work produced on CD-Rom, DVD-Rom, video, digital interfaces, and the internet. Its collection of supporting materials includes unpublished manuscripts and designs, catalogues, monographs, and resource guides to new media art.
♥ 0
1,627 read
♥ 0
1,712 read