British poetry
Goals The British Women Romantic Poet's Project is producing an online scholarly archive consisting of E-text editions of poetry by British and Irish women written (not necessarily published) between 1789 (the onset of the French Revolution) and 1832 (the passage of the Reform Act), a period traditionally known in English literary history as the Romantic period. Selection Criteria Texts are being selected in consultation with our Editorial Advisory Board , consisting of scholars in the United States and Canada. Our aim is to make complete texts available that are not readily accessible from other sources, many of which are not well known, or who are only beginning to be of interest to the scholarly community.
♥ 0
1,137 read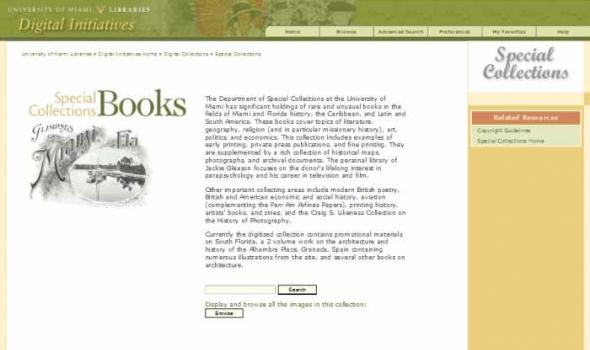 The Department of Special Collections at the University of Miami has significant holdings of rare and unusual books in the fields of Miami and Florida history, the Caribbean, and Latin and South America. These books cover topics of literature, geography, religion (and in particular missionary history), art, politics, and economics. This collection includes examples of early printing, private press publications, and fine printing. They are supplemented by a rich collection of historical maps, photographs, and archival documents. The personal library of Jackie Gleason focuses on the donor's lifelong interest in parapsychology and his career in television and film.
♥ 0
912 reads
For the last decade of the nineteenth century and at least the first two decades of the twentieth, Rudyard Kipling (1865-1936) was one of the most popular writers in the English language, in both prose and verse. He was among the last British poets to command a mass audience, appealing to readers of all social classes and ages. Although his few novels, except Kim , were only a mixed success, in the medium of the short story Kipling extended the range of English fiction in both subject matter and technique and perhaps did more than any other author in the English language to blur the division between popular and high art. Rudyard Kipling: The Books I Leave Behind , an exhibition held in 2007, was the first comprehensive show to be presented anywhere in over fifty years.
♥ 0
1,067 read