Horticulture
About the Collection The OSU Seed and Nursery Trade catalogue collection contains over 2,000 items from 1832 to 1966. While the collection is most comprehensive in its representation of American catalogues from the 1940s, it contains many older examples from North America, Great Britain, and Holland, as well other European and Asian countries. Former agricultural librarian Laura Kelts compiled the collection from various sources in the 1960s and 1970s. At that time, it was stored in a locked room of the science area of the library, where space was at a premium. In 1986, the new Special Collections unit was formed and the collection was moved there, where it resides today. Seed and nursery trade catalogues are lists of seeds or plants available for sale.
♥ 1
1,231 read
Garden City: Public and Private Gardens in Early Toronto Early Toronto residents, politicians and local entrepreneurs transformed the City by creating public gardens and offering services and supplies to the gardening industry. As a result of their efforts, nineteenth century Toronto emerged as a more liveable community and a popular tourist attraction. By the late 1800s, guidebooks were referring to Toronto as the "Queen City", the "Holiday City", and the "ideal summer city". In the fall and winter, city residents and visitors congregated for social events and recreation in churches, hotel dining rooms and concert halls.
♥ 1
964 reads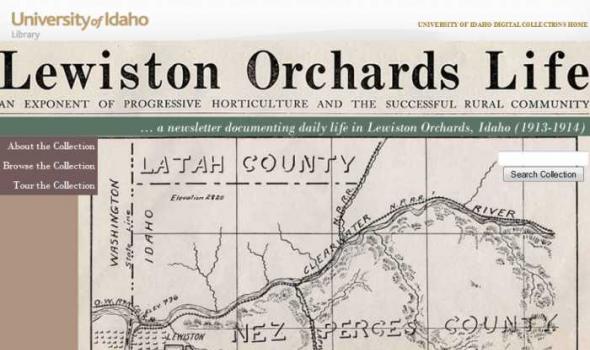 About Lewiston Orchards Life Lewiston Orchards Life was a neighborhood newsletter published in Lewiston, Idaho during the early 1900s that covered the horticultural and residential events of those living in Lewiston Orchards. Special Collection & Archives at the University of Idaho Library holds fourteen issues as part of their Day Northwest Collection. About Lewiston Orchards Now a residential neighborhood in Lewiston, Idaho, Lewiston Orchards was once a vast commercial garden. The area produced apples, apricots, cherries, berries, plums, pears, quinces, peaches, nuts, lettuce, and grapes in abundance. The ???Orchards??? grew out of an ambitious land development and irrigation project, which was conceived and undertaken by Harry L. Powers at the turn of the 20th century.
♥ 1
1,218 read