Music history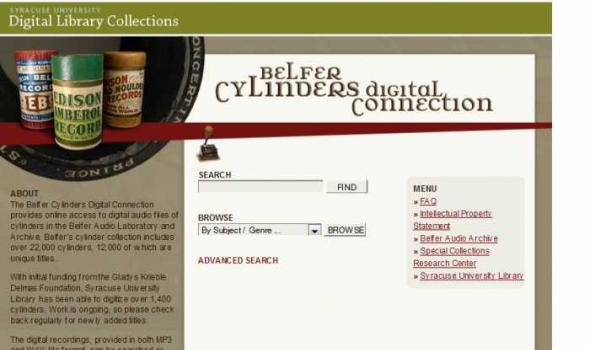 About the Belfer Cylinders Digital Connection The Belfer Cylinders Digital Connection provides online access to digital audio files of cylinders in the Belfer Audio Laboratory and Archive. Belfer's cylinder collection includes over 22,000 cylinders, 12,000 of which are unique titles. The digital recordings, provided in both MP3 and WAV file format, can be searched or browsed by genre/subject. The project was partially supported by a Delmas Foundation grant. The MP3 and WAV recordings in the Belfer Cylinders Digital Connection differ in that the MP3 recordings have recording "noise" cleaned up and are in a compressed file format.
♥ 0
1,458 read
The Frederick R. Koch Collection consists of musical, literary, and historical materials collected by Frederick R. Koch (Yale School of Drama, 1961 MFAD), principally through purchases at public auctions, from 1979-1986. Including individual items, concentrations of related materials, and several extensive archives, the collection is a broad and deep resource for study of the lives and works of a range of composers, authors, and other historical figures. Most materials are music manuscripts, literary manuscripts, drawings, and correspondence of European, English, and American composers, authors, and artists. Also present are historical manuscripts, photographs, albums, and other papers.
♥ 0
969 reads
About Us About Us Located at the foot of the San Gabriel Mountains in the city of Claremont, California, 35 miles east of Los Angeles, The Claremont Colleges are a geographically contiguous set of five top-ranked liberal arts undergraduate colleges and two graduate institutions, uniquely configured to support and encourage interdisciplinary study. The Claremont Colleges Library, a part of The Colleges' supporting organization, the Claremont University Consortium, support all seven academic institutions across a wide spectrum of disciplines. The library holds more than 2 million print volumes and provides access to a vast array of electronic resources, both subscription and Open Access.
♥ 0
1,395 read