Anarchism
About the Emma Goldman Papers Project The Emma Goldman Papers is part of a national initiative to retrieve the papers of individuals whose life work has had a lasting impact on the course of American history. Since 1980, the Emma Goldman Papers Project at UCB has collected, organized, and edited tens of thousands of documents from around the world by and about Emma Goldman (1869-1940), a leading figure in American anarchism, feminism, and radicalism. In the spirit of Emma Goldman, the EGPP has extended its scholarly research to serve the community-to educate the public about the complexity of engagement in social and political transformation.
♥ 1
1,142 read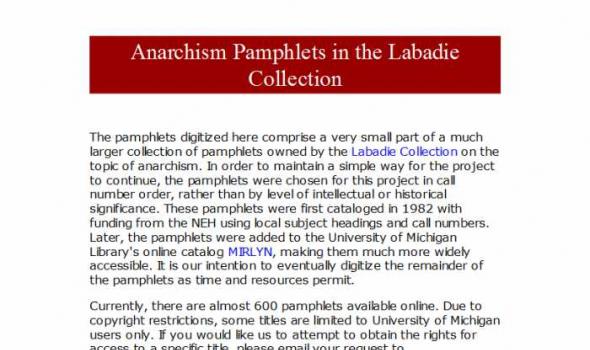 The pamphlets digitized here comprise a very small part of a much larger collection of pamphlets owned by the Labadie Collection on the topic of anarchism. In order to maintain a simple way for the project to continue, the pamphlets were chosen for this project in call number order, rather than by level of intellectual or historical significance. These pamphlets were first cataloged in 1982 with funding from the NEH using local subject headings and call numbers. Later, the pamphlets were added to the University of Michigan Library's online catalog MIRLYN , making them much more widely accessible. It is our intention to eventually digitize the remainder of the pamphlets as time and resources permit. Currently, there are almost 600 pamphlets available online.
♥ 0
1,108 read
Protesta Humana This collection contains rare examples of anarchist, socialist, and communist newspapers published in Buenos Aires during the late nineteenth century. The UCLA Digital Library Program is working with members of the History Department to provide these newspapers in searchable full-text versions. Esta colección contiene ejemplos raros de los periódicos anarquista, socialista, y comunista publicados en Buenos Aires durante el a fines del siglo diecinueve.
♥ 0
1,515 read